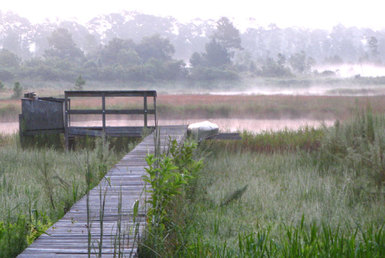 Island Pond is shrinking and weeds grow where water stood.
It's 93 degrees. I'm in mom's car, toes curled around the accelerator bumping along by the edge of Buck Lake in Geneva (between Orlando and Sanford). I'm less than five miles from Lake Jesup the big lake local legend claims has the most gators per shoreline mile of any body of water. Some population estimates claim 13,000 of the bumpy-backed prehistoric lizards hide in the dark water and cruise the surface like nuclear powered logs. I've seen more than a few there.

But this morning, on this little lake, all I see is a family of sandhill cranes foraging by stabbing their long beaks into the boggy land surrounding the lake.

Down by the water, car left by the road, mud coming up between my toes, I cast out a black and yellow rubber worm past the lily pads and reel it slowly toward shore. The water boils and the worm is sucked down by a small but scrappy bass. He hangs on to the tail for a tenacious few yards but spits it out before getting hauled out of the water.

A couple of casts later the line sinks and then goes taut and the rod tip bends just a touch. But when I start to reel there's no fight and the small bass that's caught is a sad specimen. He's so thin I swear his cheeks are sunken and his flanks are lean. I get him unhooked and back in the water fast and wish I had a bucket of fish food and not just a tackle box full of rubber worms.

Somehow, seeing the little bass made me think of a big trout my father caught in Lake Santa Fe when I was a kid. He was boat fishing and brought the trout back in the live well. It was early in the day so he tied the fish to a line anchored to a cypress knee. It swam there in the knee-deep clear water as if suspended in air, its fins beating a delicate figure eight on its sides. I untied it and walked it like a dog in the shallow water for what seemed like hours. It became my pet and when it was time to kill it and clean it for dinner I cried. I refused to eat any of the trout that night but within a couple of days was back to loving a good piece of bream or trout or speckled perch dusted in cornmeal and fried up with hushpuppies and grits.

We loved the land and what grew on it. We loved the water and most of what swam in it. We would not have hurt any of it on purpose except poisonous snakes though I supposed we did our own share of damage by not knowing any better.

My sister lives on Island Pond now, near Buck Lake. The eagles who nest in an old dead tree behind her house used to bathe in the shallows of her small lake but now the shallows are all gone, replaced by muck and dry sand that used to be on the bottom. The eagles are bathing somewhere else though they still nest nearby and rest in the big pines looking for signs of something small and lunch-like moving through the tall grass and dog fennel. Ospreys make passes over the lake and a couple of crane families come flying in every morning, their distinctive yodeling call preceding them by quite a ways. The cranes wander the changing shoreline with their graceful, syncopated, tall stepping walk. There used to be pretty good sized bass all over Island Pond and maybe there are a few left. I hope so.

To be sure there is evidence that Island Pond has gone through rise and fall dramatically in recent history. It has come up enough to be one lake and dropped enough to become three. Dead pine stumps ring the marshy edge, proof that the water was low enough to let a small stand of trees flourish for at least 10 years. And the stumps prove that the water was high enough, long enough to then kill those trees.

Over tens of thousands or hundreds of thousands of years with glaciers capturing and releasing the planet's water, Florida has risen and spread its shore out hundreds of miles and then retreated to a tiny series of islands. But the change I'm talking about is happening over years, not millennia. So are the measurable water level shifts we can see part of that larger, slower cycle the earth goes through or is it something else, something we are causing through our unwillingness to take care of what's right outside our doors?