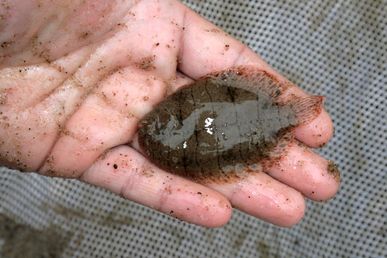 The creek, where I shot the moccasin and fished on long hot afternoons, had a few surprises. One was finding tiny flounders. They were anywhere from half an inch to an inch and a half long and really hard to catch. They changed color from pale yellow like the sand seen through the tannin-shaded water to dark brown over by the leaves in the edge. Or, they burrowed under the sand and just disappeared.

Recently I was doing some research trying to find out if being in freshwater is a phase of the saltwater flounder's life cycle like salmon going up the rivers to spawn but it doesn't seem to be. They are Trinectes maculates but commonly called hogchokers in the online chat rooms about freshwater fish and no one seems to know much about them. Apparently they are not really flounder but are in the sole family and live their lives in brackish water as far north as the Hudson River in New York. They can also be found many miles up the Mississippi and in most of the Florida rivers leading to the sea.

Back then I didn't think too much about it, I just liked to catch all kinds of little fish with a dipper or a small scoop net. Sometimes I caught them with my hands. I caught minnows and I caught baby fish that would grow up to be catfish, trout or bass. And naturally I caught the little flounders too.

My grandmother let me take her big blue enameled turkey pan and make an aquarium that I kept on the back porch. I got creek sand and washed it until it was clean and then got a couple of water plants and some rocks from the railroad bed so the little fish would have places to hide. I hauled water from the creek and set it up. Then I caught the fish and put them in.

Now of course I did not have a fancy aerator so I had to add fresh water every day or they would have nothing to breathe. And the water went bad and got to growing algae and stinky things in a couple of days so twice a week I had to catch the fish and put them in a glass while I took everything out and washed it. That meant washing the sand, the rocks, the pan and even the plants. Then it all had to be put back in and the fish carefully added back.

They did hide in the little cave I made for them out of rocks and I could watch them for hours swimming around and coming to the surface where they made little gulping moves.

I don't remember for sure what I fed them. Maybe crumbs or maybe I actually got some fish food at the store.

At any rate they lived and when summer vacation was over I took them back to the creek and turned them loose. Years later I may have caught them as grown fish and even eaten them, who knows.