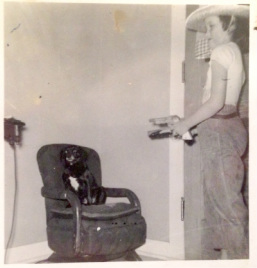 Every kid should have a dog. I had Princess.

She was half Chihuahua and half cocker spaniel and was born with a naturally cropped tail and a less than sweet demeanor. Of course that may have been because of how I tortured her believing she enjoyed our play as much as I did.

Princess was short-haired and black with floppy ears and a white diamond on her chest. She must have been fixed or my parents must have kept a good eye on her because she never had puppies. But boy did she want them.

At one point I was given a little mechanical dog for my birthday. It was brown and white and appeared to be lying down. It had two wheels underneath the hind legs and a wire coming out the back of its collar like a leash except it led to a control box. Press the button and the little dog would zip across the floor yipping madly and at a certain point would stop and then stand up on its hind legs, front paws waving in the air for a few seconds before falling back to the floor to begin rolling around again.

I liked the little mechanical dog but Princess evidently liked it even better. One day I couldn't find it and searched everywhere. My mother eventually located it in the back of a closet. Princess had made a nest out of towels she dragged out of the laundry basket and had taken the toy in with her. She was acting like it was her puppy and licked it until it was completely soaking wet. (It's fur was never quite the same.) She tried to make it nurse but didn't have any luck.

After that I had to be sure the mechanical dog was in my toy box or up high or Princess would find it and take it away.

Princess could talk. She said three things though honestly they all sounded fairly similar. She said "hamburger," "grandmother" and "I love you." She had a place at dinner where she sat up on her little hindquarters on a chair with her paws on the edge of table. You could put anything down in front of her and until you said okay, she would not go near it.

Sometimes I'd put a tasty bit of chicken or pork chop in front of her and get her to say all her words before I gave her the okay. I don't think she minded.

What she did mind was being used as a horse or worse, a calf.

I had a lot of plastic cowboys and horses and liked to strap one of the saddles on her. She was too wide in the beam for any of the cowboys to fit but I had a couple of soft dolls (like Jimmy and James, the rock and roll stars I made clothes for) that I could tie on. That was annoying to her but not nearly as annoying as when I pretended to be riding a horse and ran up behind her, threw a lasso over her head, jumped down off my "horse," and grabbed her front and back leg on the opposite side of me to flip her over on her back. Then I quickly tied three of her legs together and threw both of my hands in the air to signal I was done just like the calf ropers do at the rodeo.

I'm pretty sure that's why she finally bit me though I have to say at the time I cried because my feelings were hurt, not because of the small amount of blood that was shed.

Princess finally succumbed to a chicken bone that she snuck out of the garbage.