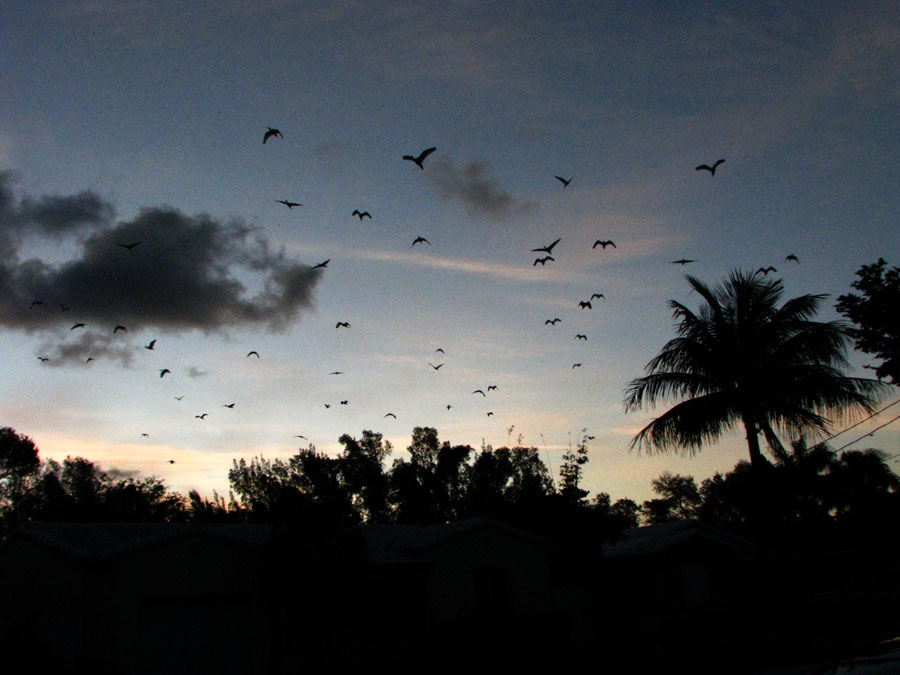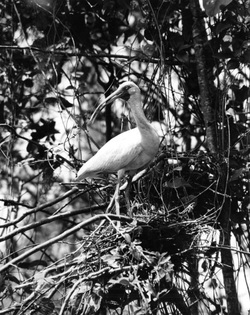 Ibis on nest, courtesy of the Florida Archives.
It's 6:30 a.m. and the sky has pinkened up nicely. Toward the horizon over the Atlantic slate blue clouds are piling up and will begin their march toward land where they will dissipate or maybe coalesce and dump some rain. I'm waiting for the ibis.

Every morning, near sunrise, the huge flock of ibis that roost in the trees lining the short waterway across the street give a collective shake and then take off, silently, as a group. Usually they come straight up out of the trees like a covey of quail flushed from the brush by a good bird dog and then all fly off in the same direction. It's as if they are commuters headed to work and in a way they are. Somewhere, and they seem to know where that is, there are plenty of delicious grubs and bugs just waiting to be beaked up. My guess is golf courses though during the day you are likely to see them almost anywhere around Fort Lauderdale — parking lots, quiet streets with small lawns, mega houses with equally impressive boats in the canals behind them.

Once in a while the ibis seem to get their magnetic compasses out of whack and then they swirl and re-roost and re-take off abortively a few times before settling into their purpose and winging away. Still, it's a silent thing.

The parrots on the other hand are noisy from the get go. Their flight seems as intoxicating to them as teenagers on a roller coaster and like the teenagers they scream and screech as they wheel around the sky.

Before the parrots do their first morning takeoff they sometimes gather in the tops of the trees and murmur to each other in parrot talk. Occasionally it's just one parrot, a lone sentinel turning this way and that before giving some signal to the others that it's time to fly and scream.

The young ibis tend to stick closer to the roosting area and it's common to see their brown and white bodies bobbing down the streets nearby.

The parrots definitely break into smaller groups and swoop around chattering and looking for bird feeders and other easy targets.

At night, everyone comes home. The parrots come in dribs and drabs, the ibis have joined up as they return and arrive in a big bunch to throw their wings up over their heads to make a graceful drop into the trees below.

When you spend time in one place you get to notice these things and know them in the same way that you know how to park your car or tie your shoes. It just becomes part of what you carry around without thinking about it. You might be drinking coffee and suddenly think, it's time for the ibis and wander over to the window, cup in hand, just in time to see their silent arrowing across the sky.